Heavyweight Wool Work Sock
Size:
LARGE
(8-11)
X-LARGE
(11.5-14)
For steel toe boots
or cold weather Thermoregulated
to warm your feet High density wool
to prevent blisters Full cushioned
heel for comfort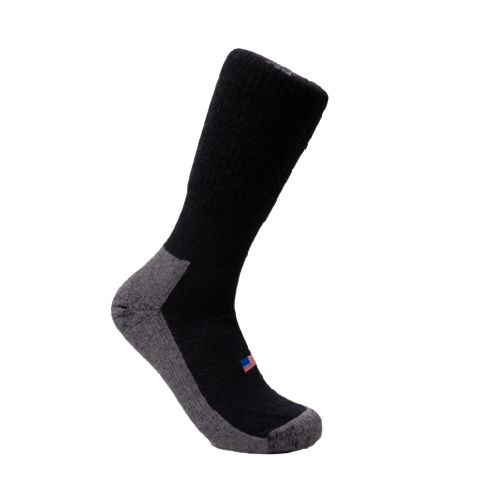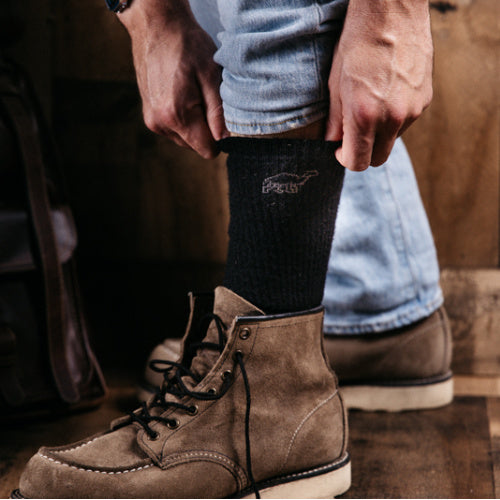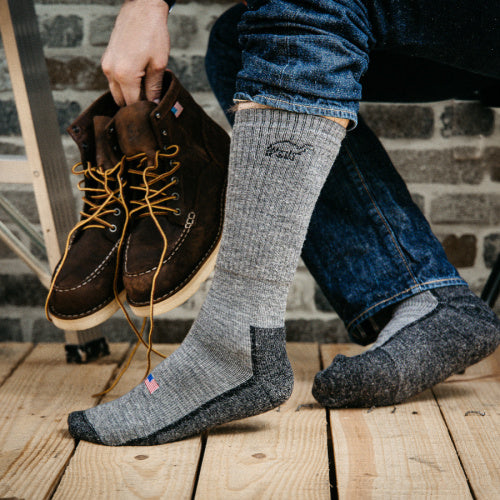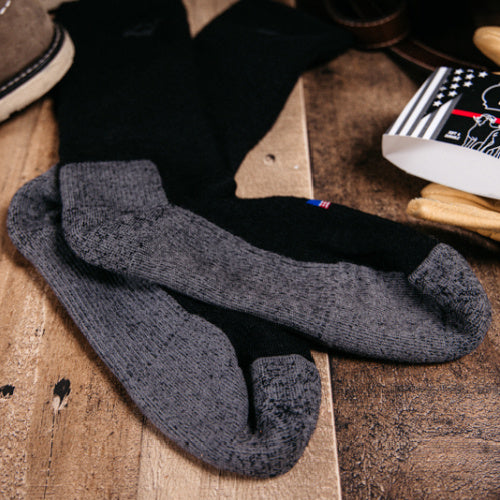 Why You'll Love Our Socks
No More Sweaty Feet
The Ironside Merino wool we use is 35% better at wicking sweat when compared to polyester socks, which is what most "sweat wicking" brands use. Our high density knit will keep your feet from sweating in your boots.

As a go-to, everyday sock, the Lightweight has natural thermoregulation that keeps your feet warm in winter and cool in summer, plus you won't get sweaty, swampy feet.
No Sweat Venting
Using thermal imaging, we analyzed the specific hot-spots where your feet release the most heat.

We've designed our socks specifically with No Sweat Venting along the metatarsal (top of your foot) to keep the airflow high and the moisture low.
Durability Backed by our 10-year Guarantee
One single thread of Ironside Merino wool from a Camel City Mill sock is strong enough to pick up a 15 pound weight. We're confident in our durability.

So confident that we offer a 10-year durability guarantee on our socks. If they get a hole in them, ship them back and we'll send you new ones.
All Day Comfort
The natural fiber in our socks vents sweat and moisture away from your foot, which not only keeps you more comfortable, but prevents blisters and reduces odor.

Plus, the high density knit we use allows for padding around the heel, ball, and instep of your foot, so even the toughest boots feel comfortable.
Compression and Support
We weave Spandex and nylon into our fabric to create light compression around the arch of your foot.

The compression helps circulation, which helps your recovery time so your feet still feel fresh the day after putting in 14 hours on the job site.
Proudly USA Made
Our socks are made in North Carolina with 100% US Merino wool.

Even our sheep are American, baby.